Why SMILE®?
Everything is possible with a SMILE®.
Just get in touch with us via phone or email and we'll talk about your very own, custom-built SMILE®.
You might also just order it comfortably from our online shop.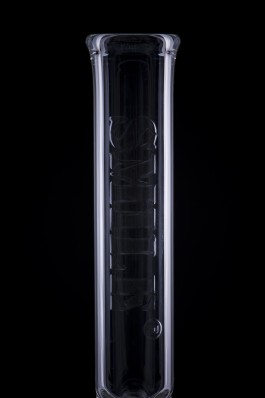 SMILE® High End Glassware Made in Germany.
For all glassware enthusiasts we would like to point out all features and advantages of SMILE® Glassware.
All SMILE® Glassware is hand-made out of high quality borosilicate glass.
Wall thicknesses of 2.5 mm - 9.0 mm of the completely unstressed glass make every SMILE® Glassware product a unique smoking device.
All used borosilicate glass is 3.3 certified after DIN-ISO 3585.
Every SMILE® pipe comes with extreme³ cuts and extreme³ couplings which are 3 times as thick as normal cuts and couplings making them the toughest on the market.
The extreme³ cuts and extreme³ couplings are produced in a time consuming, complex process which results in perfectly fitted and precise cuts not comparable to standard off-the-shelf cuts.
A really unique feature of SMILE® Glassware is the patented SMILE® Inside Cut. The cut is directly integrated into the pipe, eliminating one of the weakest points of standard pipes.
All 5mm SMILE® pipes and custom-made SMILE® pipes are delivered with a mega colored bowl.
Every SMILE® Glassware product passes a computer aided quality assurance test before we ship them right to your door step.